Welcome to Effnetplattformen Holding AB
Effnetplattformen Holding consists of the parent company Effnetplattformen Holding AB and its wholly owned subsidiary Effnet AB. The parent company's strategy is to own and invest in companies with interesting potential for growth and to use its structure, capital and know-how to assist other companies in going from private to public companies.
If you are looking for information concerning Tessin Nordic Holding AB, that during a period traded under the name Effnetplattformen AB please see www.tessin.com.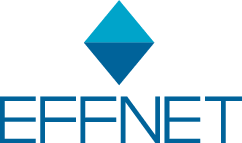 Effnet AB is a wholly owned subsidiary of Effnetplattformen Holding AB (publ). Effnet develops its own software products for efficient networking and licenses them to companies all over the world. The Effnet 5G protocol stack for terminals is licensed to chipset and product vendors for use in terminals such as cellular IoT devices, dongles and access points including integrated Wi-Fi and cellular access points as well as test systems. The Effnet 5G RAN software is licensed to OEMs and system integrators of base-stations (from small cell to C-RAN) and vehicle-to-everything communication devices as well as test systems. Effnet is a world leader in the area of IP Header Compression and its IP header compression products are licensed to chipset and product vendors for use in fixed, mobile and satellite networks. For more information about Effnet and more information about its products and services for 5G protocol stack and IP header compression, please visit www.effnet.com.




Årsredovisning 2022
---
News:
2023-10-20: Delårsrapport Januari - september 2023
2023-08-18: Delårsrapport Januari - juni 2023
2023-05-12: Årsstämma i Effnetplattformen Holding AB
2023-05-12: Delårsrapport Januari - mars 2023
2023-04-12: Kallelse till årsstämma i Effnetplattformen Holding AB
2023-02-27: Effnet showcases its 5G RAN software with Arm and Red Hat at MWC 2023
2023-02-17: Bokslutskommuniké Januari - december 2022
2023-02-14: Krister Moberger utsedd till tillförordnad CFO
2022-12-08: Effnet joins the next phase of the SONIC Labs
2022-10-21: Delårsrapport, Januari-september 2022
2022-09-30: Effnet licenses its header compression software for defense and security
2022-09-21: Effnet licenses its header compression software to Kratos RT Logic
2022-08-19: Delårsrapport, Januari-juni 2022
2022-07-18: Effnet and SONIC Labs collaborate to showcase potential of open RAN technology and solutions
2022-05-20: Kommuniké från årsstämma i Effnetplattformen Holding
2022-05-20: Delårsrapport, Januari-mars 2022
2022-04-29: Effnetplattformen Holding publicerar årsredovisning för 2021
2022-04-20: Frågestund vid årsstämma
2022-04-20: Kallelse till årsstämma
2022-02-18: Bokslutskommuniké Januari - december 2021
2022-01-19: Effnet releases Effnet Backhaul Header Compression(TM) for VXLAN, PPP and PPPoE compression
2021-11-19: Alpcot Holding AB (publ) godkänt för notering på Nasdaq First North Growth Market
2021-11-10: Alpcots private placement inför den kommande noteringen kraftigt övertecknad
2021-10-27: Avstämningsdag för utdelning av aktier i Effnetplattformen EV1 AB är den 3 november 2021
2021-10-22: Delårsrapport, Januari-september 2021
2021-10-15: Alpcot övertar Nord Fondkommissions samtliga depåkunder
2021-08-20: Delårsrapport, Januari-juni 2021
2021-08-13: Extra bolagsstämma i Effnetplattformen Holding beslutade om sakutdelning av aktier
2021-08-05: Effnetplattformen utser Gilbert Ström till ny verkställande direktör
2021-07-26: Effnetplattformen Holding kallar till extra bolagsstämma för beslut om utdelning av aktier i dotterbolag
2021-07-06: Slutligt resultat av Effnetplattformen Holdings nyemission
2021-07-02: Effnetplattformen Holdings nyemission kraftigt övertecknad
2021-06-14: Publicering av informationsbroschyr avseende nyemissionen med företrädesrätt för de befintliga aktieägarna
2021-06-11: Effnetplattformen Holding har ingått avtal om förvärv av Alpcot – transaktionen sker via dotterbolag som delas ut till aktieägarna och noteras
2021-06-07: Effnetplattformen Holding beslutar om nyemission med företrädesrätt för bolagets aktieägare om högst MSEK 24,9 samt planerar för nya affärer och noteringar
2021-05-26: Effnetplattformen Holding AB godkänt för notering på Nasdaq First North Growth Market
2021-05-21: Kommuniké från Effnetplattformen AB:s årsstämma 2021
2021-05-21: Delårsrapport Januari - mars 2021
2021-05-07: Tessin Nordic Holding AB (publ) och Effnetplattformen Holding AB (publ) offentliggör bolagsbeskrivningar
2021-05-05: Tessin Nordic Holding AB (publ) och Effnetplattformen Holding AB (publ) har godkänts för notering på Nasdaq First North Growth Market
2021-04-22: Tessin Nordic har framgångsrikt genomfört en riktad nyemission om 38,5 MSEK
2021-04-21: Effnetplattformen publicerar årsredovisning för 2020
2021-04-20: Kallelse till årsstämma
2021-04-20: Uppdatering avseende årsstämma och transaktionen med Tessin Nordic
2021-04-12: Effnet licenses its ASN.1 5G Toolset and 5G gNB CU-UP software components
2021-03-16: Effnetplattformen har – villkorat av Nasdaq Stockholms godkännande - ingått avtal om förvärv av Tessin Nordic med samtidig utdelning av Effnetplattformens nuvarande verksamhet till aktieägarna
2021-02-25: Effnet joins the SmartRAN Open Network Interoperability Centre (SONIC)
2021-02-12: Bokslutskommuniké Januari - december 2020
2021-02-09: Effnet launches ASN.1 5G Toolset
2021-01-19: Effnet utökar sitt avtal med Altiostar Networks